Saving one animal will not change the world, but for that one animal the world will change forever.



Cecilia's Web Page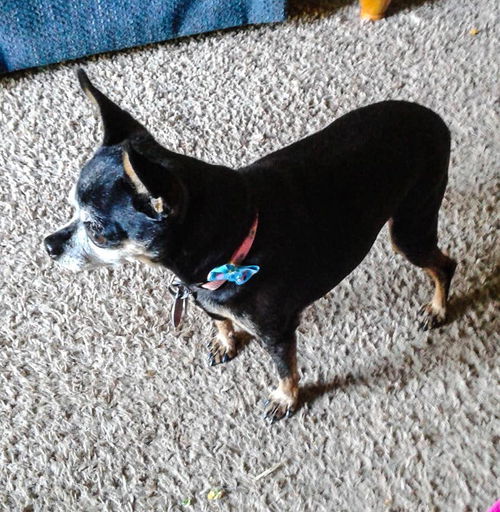 Description:
Cecilia is a Chihuahua mix little dog. She is about 8 years old, we of course don't know her exact age. She has a cute personality and loves to be with her family. She loves to cuddle up with someone in a chair during the day or in bed at night. Most of the time she will do a little dance if she wants outside or needs water in her bowl. She does have an accident now and then when the weather is bad outside since she doesn't want to go out in that. She does like older kids. But she is not comfortable with them under 5 years if they don't know how to be gentle. She hasn't been with cats that we know of. And she will bark at the neighbor cats that come in the yard.
In nice weather, she loves to be outside, sniffing what has been in the yard, or just sunbathing. She is scared of storms and barks at the thunder unless she can be right beside someone to feel safe. She was found running loose in the street, so we are very careful to not let her get out of the fenced yard to run off. She likes going in the car and places to meet new people.
Cecilia has been spayed, is up to date on all vaccinations, and is on monthly heartworm prevention. Her adoption fee is $125.
If you are interested in Cecilia, please fill out our Adoption Application on our website: www.PAWFirst.com
Breed:
Chihuahua / Mixed (short coat)
General Potential Size:
Small
Current Age:
11 Years 10 Months (best estimate)
Activity Level:
Slightly Active
Indoor or Outdoor:
Indoor Only
Other Pictures of Cecilia (click to see larger version):
| | |
| --- | --- |
| 79.5k | 69.6k |